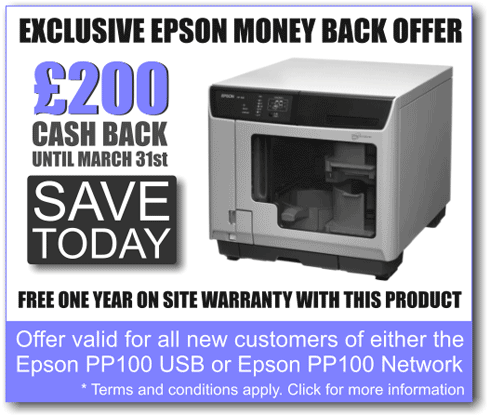 In an exclusive offer from Epson, CD-writer.com Ltd is excited to be able to offer all of our EPSON PP100 USB and PP100 Network Disc Producers £200 cash back after your order is completed. Qualifying retail customers will receive there deduction 30 days after the completion of their order. For more information please contact CD-writer.com sales on 020 8293 0777.
Epson Disc Producers qualifying for £200 Cash Back (until March 31st 2012)


Epson PP-100 DiscProducer (USB), EPSON
---
Epson PP-100N Network DiscProducer, EPSON
Prices are exclusive of £200 cash back offer and are correct as of time of publication.
CALL CD-WRITER.COM NOW TO FIND OUT MORE ON 020 8293 0777